Rare Natural Pearls – A Guide to Non-Nacreous Pearl Treasures
Pearls are known to be one of the first gems ever set into jewelry, dating back thousands of years. They were not cultivated by man until the end of the 19th century. All of the pearls owned by international royals, maharajas, celebrities, and socialites throughout history were natural pearls. Today, however, of the small quantity of natural pearls still found in the oceans, those appealing enough to be used in fine jewelry are exponentially more rare. Beautiful natural pearls of the highest quality are one-of-a-kind collectible delights.
Given this rarity and distinctiveness, natural pearls in the modern world are genuine treasures. By definition, a natural pearl forms in a mollusk without any stimulation from mankind. Most of the pearls that we wear now (classic pearl strands, pearl studs and pearl drop earrings, even colorful Tahitian pearls or Fiji Pearls) are nacreous cultured pearls, meaning they were cultivated in a pearl farm by inserting a nucleus into the oyster's soft mantle tissue. The cultured pearl develops in a natural process, but that process was stimulated by mankind. (For more information on how pearls are formed, click here. For more information about the differences between nacreous and non-nacreous pearls, click here.) Natural pearls form in the wild with no interference from man, and in today's world, they are exceedingly rare, making them highly prized and valuable. Here, we will take a look at some of the types of natural pearls and their magnificent beauty.
Conch Pearls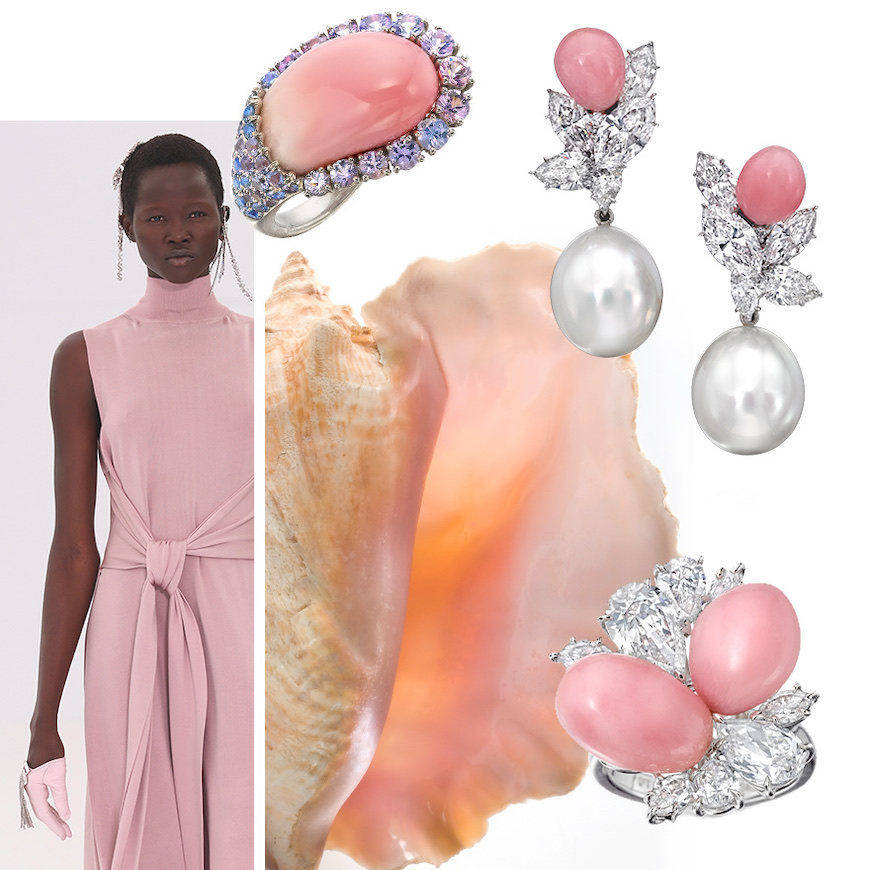 The conch pearl is a natural non-nacreous pearl that forms in the Caribbean in the large marine gastropod called the Queen Conch mollusk. Conch pearls are composed of concentric layers of fibrous crystals that form naturally around an irritant in the mollusk's soft mantle tissue. They cannot be cultivated, and they are very rare. Only one out of a thousand Queen Conch mollusks will produce a pearl, and fewer than ten percent of the pearls are gem-quality. The true gem-quality, beautiful, conch pearl is exceedingly rare, and therefore, very valuable.
We often think of Conch Pearls as pink, but they also can come in a range of hues from browns to honey-colored to deep honey reds and the palest of pinks. The pink tones are the most desirable. They pair beautifully with lavender spinel as seen in the Assael conch pearl and spinel ring above. The bright pink conch pearls also play well with diamonds and pearls. The Assael Natural Conch Pearl, Diamond and South Sea Pearl earrings are a good example.
Size and shape also affect the value of Conch Pearls as the larger sizes are beyond rare and very valuable. In terms of shape, most gem-quality conch pearls are oval (although they occur in a variety of shapes from baroque to round). The more symmetrical the oval shape, the more desirable and valuable the conch pearl.
The very finest Conch Pearls have a burst of light, a swirl or a flame-like pattern that makes them highly prized. They also have a porcelaneous sheen that contributes to their alluring beauty and desirability. See the Assael Natural Conch Pearl and Diamond ring in the image above – note the beautiful bright pink hues, the significant sizes, the bursts of light, and how the diamonds complement their porcelaneous sheen.
For more information on Conch Pearls, click here.
Melo Melo Pearls
The Melo Melo Pearl is one of the most highly prized pearls on the planet. Touted as the rarest of all pearls by Town & Country magazine, the Melo Melo pearl is a non-nacreous pearl that forms in the marine gastropod known as Volutidae – a large sea snail commonly called "melo melo." Following the color patterns of the sea snail, these pearls range in color from orange to tan to brown, with bright orange being the most highly prized.
Melo Melo Pearls originate in the waters of the South China Sea and the Andaman Sea, with Vietnam producing the finest and most sought-after examples, followed by Burma and Thailand. Like Conch Pearls, Melo Melo Pearls are non-nacreous and formed of calcite, and the most highly prized specimens exhibit the lovely feathered or flame-like pattern and that treasured porcelaneous sheen.
Unlike Conch pearls, most Melo Melo pearls are spherical, but they can also occasionally be baroque, oval, or off-round, as well. The most sought after, and therefore most valuable, are the round shapes.
The Melo Melo Pearl is also very rare, especially large ones of very high quality. According to Robb Report magazine, "it is estimated that only one in every several thousand melo melo sea snails produces a pearl of notable size." The rarity and beauty of the truly fine, gem-quality Melo Melo Pearls, especially the large ones, can drive prices to dizzying heights.
For more information on Melo Melo pearls, click here.
Quahog Clam Pearls
Quahog Pearls come from clams as opposed to oysters or gastropods and therefore, they are often referred to as clam pearls.For detailed information on these unique natural pearls, we consulted with respected gemologist Renee Newman, author of the Pearl Buying Guide: How to Identify and Evaluate Pearls, www.reneenewman.com/pearl.htm. According to Newman, Clam pearls from the bivalve clam Venus mercenaria (also called the "Mercenaria mercenaria"). This common hard clam is found along the North Atlantic coast of the United States and has a purple stain on the back of the shell. Quahog (pronounced KOH-hog) pearls occur in various colors. White is the least rare and often the most economical color, while purple to lavender colors are the rarest and most valuable. Other colors include beige, brown and black. Usually the more uniform the color, the higher the price, with the exception of some pearls with attractive bicolor and tricolor patterns. Most quahog pearls are below 7 mm, but exceptionally large pearls can range from 14–20 mm.
Assael's exceptional Clam Pearl ring surrounds the beautiful, exotic, striped North American Quahog Natural Saltwater Pearl with 4.51 carats of Lavender Spinel, set in platinum. The pearl is exceedingly rare, and to discover one over 10.0 mm is rarer still! This one Natural Color Multi-Purple Pearl measures an astonishing 13.7 x 10.9 mm.
Cassis Pearls
Similar to Melo Melo and Conch pearls, Cassis Pearls are also formed in a gastropod. The Cassis Cornuta gastropod, commonly known as the "horned helmet," is a large sea snail with a heavy shell that has horn-like knobs and a wide base. It hails from the Red Sea, the Indian Ocean, the north African coast, and the Pacific Ocean. Interestingly, since the 15th – 16th century, the Cassis shell is often used for engraving cameos.
The pearl itself is made up of layers of fibrous crystal that naturally wrap an irritant that gets into the gastropod's soft mantle tissue. The Cassis Pearl is extremely rare. Only a small number of Cassis Pearls are found each year (one out of every 20,000 horned helmet shells), making them very difficult to acquire.
According to the Gemological Institute of America (the GIA), Cassis pearls typically have a fine and slender flame structure, often with intersecting flames. Their colors traditionally range from light orange to orangey brown, sometimes with patchy color." These pearls are also found in colors of beige, white, and pale pink to almost white.
The Assael Natural Saltwater Cassis Pearl ring, shown above, features a moon-like round brown and white non-nacreous pearl, measuring 13.7 x 13.2 x 11.7mm. A magical planet of sorts, the porcelaneous sheen of the unique Cassis pearl is reminiscent of moonlight, and the crescent diamonds gently amplify the radiance of the sheen in this extraordinary natural pearl.
Spiny Oyster or "Spondylus" Pearls
Spondylus pearls do not come from gastropods like the varieties of non-nacreous natural pearls mentioned above. Instead, these pearls come from bivalve mollusks (oysters) that have a spiny layer of protection along their outer shell.
According to the GIA, "the Spondylus genus (commonly known as the 'thorny' or 'spiny' oyster) consists of about 76 living species distributed in tropical waters around the world. Spondylus princeps and Spondylus calcifer (also known as Spondylus limbatus) are two of the main species on the western coast of the Americas. S. princeps is found from the gulf side of Baja California down the Pacific coast of Mexico through Panama to northwest Peru. S. calcifer is found in the Sea of Cortez (Mexico) and Ecuador. Most Spondylus pearls examined by GIA are reportedly from Spondylus princeps, whose bodycolor is typically white to cream or various saturations of pink, orange, and brown." In 2016, the GIA examined pearls with a dominant purple hue reported to be from Spondylus calcifer which has been recorded as producing pearls in Costa Rica.
GIA confirms that spondylus pearls can also have distinctive features like the flamelike patterns found in the more well-known non-nacreous pearls like Conch and Melo Melo. "The non-nacreous pearls coming from these (spondylus) oysters have a microstructure consisting of crossed aragonitic lamellae. These specimens possess a flame structure that can be observed under the microscope, with a large base and an elongated tail terminating in one or more tips. They also sometimes display an optical phenomenon resembling chatoyancy."
Assael found a rare and very unique naturally striped spiny oyster pearl and created a beautiful one-of-a-kind platinum ring, accenting the treasured pearl with 3.36 carats of lavender spinel to bring out its purple and violet stripes. The breathtaking pearl measures 10.1 x 8.8 mm and is simply other-worldly.
As mentioned above, natural nacreous pearls do exist, but in the contemporary world, they have mostly been found, sold, auctioned, or are treasured heirlooms in private and/or museum collections. The exciting types of natural pearls in the modern world are the non-nacreous pearls in the types mentioned above. Their rarity and distinctive features make them highly prized and sought-after by pearl connoisseurs. Such gifts from the natural world cannot be cherished enough!
Feature image at top – clockwise from upper left – Assael Natural Purple Clam Pearl and Lavender Spinel ring, Rochas Women's RTW (Launchmetrics Spotlight), loose pink natural conch pearls, loose orange natural Melo Melo pearls, more loose pink natural conch pearls, Spondylus "spiny" oyster shell
If you liked this, you might also like:
An Introduction to Pearls – Understanding Nacreous and Non-Nacreous Pearls
Thinking Pink – Why Conch Pearls Are So Much More Than Pretty
Hello Melo! Learn What Makes This Vibrant Natural Pearl So Valuable
Articles you may also enjoy
Join us for magnificent pearl trends and exclusive treasures. Discover a world that is truly ... beyond rare.
Consider this your invitation to the House of Assael. Find your closest luxury jeweler using our map search and start your journey to timeless elegance.