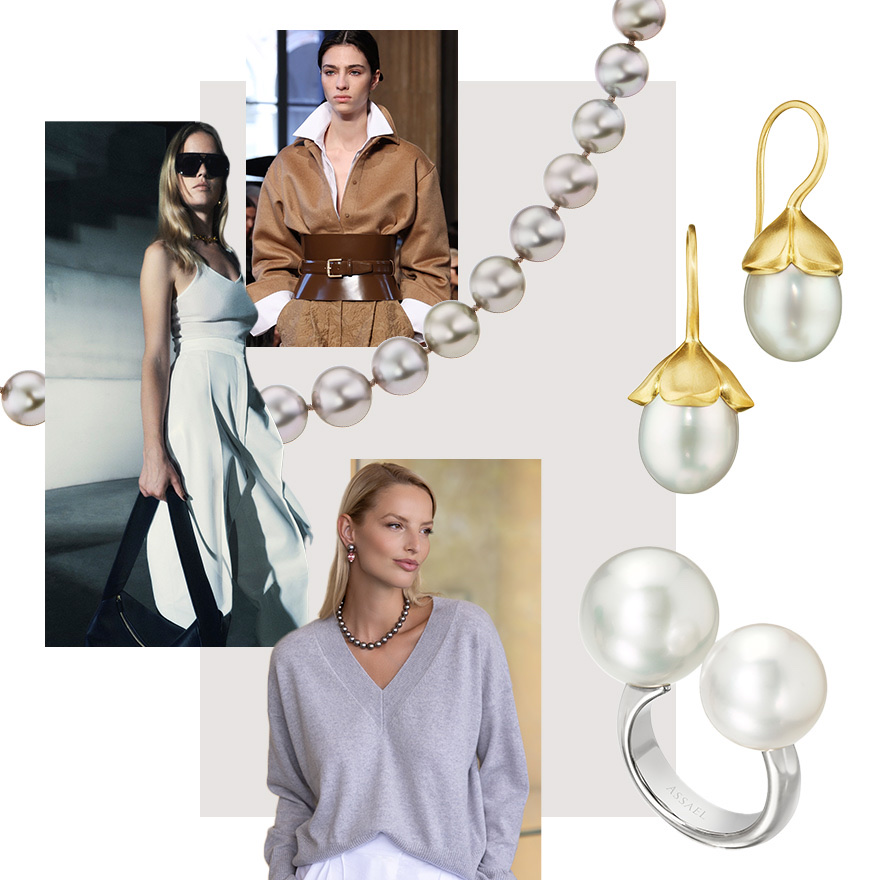 Quiet Luxury – How to Accessorize the Stealth Wealth Look
Over the past year or so, Google searches for "old money style," "quiet luxury," and "stealth wealth" have skyrocketed, according to luxury magazine Robb Report in their coverage of a new study from fashion brand Karen Millen. The buzz surrounding this paired back minimalism style prompted Vogue to announce in a headline earlier this year, "If you pay attention to one trend this season, make it quiet luxury." The aesthetic aligns perfectly with the Assael philosophy of premium quality and clean design. So, we thought we'd share some thoughtful ways to add such understated elegance to your everyday wardrobe and how best to accessorize it.
"Quiet Luxury doesn't work without loud jewelry"
First some good news for jewelry lovers – the trend is not like 90s minimalism or lacking in accessories. Jewelry historian, author, journalist, and founding editor of The Adventurine, Marion Fasel, recently pointed out the critical role that fine jewelry plays in the quiet luxury trend… "All of this fashion news is great for jewelry because quiet luxury doesn't work without loud jewelry."
Fasel, in a recent post on thecoutureshow.com, explained that "loud jewelry" is not about being flashy… rather, it's "about making an exclamation point on an ensemble. … There is an eco-conscious spin to the movement, too, that touts: buy less, but better." It is brought to life by "deluxe low-key attire with impossible-to-miss jewels."
Gold is a big part of the look, with or without diamonds. Also, opt for opaque gems that are less sparkly, like classic pearls, precious coral, or high-end turquoise, as opposed to faceted colored gemstones. Look for clean lines in the jewelry design to mimic the tailoring of the outfit or silhouette.
The Akoya 10-pearl double band ring by Sean Gilson for Assael featured below is a good example. The negative space between the pearls feels modern and fresh, but the pearl and gold combo is as time-honored as it gets. Gilson's Bubbles collection for Assael is also en pointe. The innovative craftsmanship allows the pearls to float like bubbles with a very modern and classy pearl aesthetic. 
Invest in Modern Classics
The zeitgeist of the times, captured in pop culture by the HBO hit show Succession, is a decided move away from logos and showy forms of luxury, towards long-lasting quality that evokes sophistication and discerning tastes. Forbes reports that "the idea (of quiet luxury) has more to do with mood and attitude than it does aesthetic. … When you invest instead of spend, you purchase high ticket clothes and accessories that you can wear all throughout the year, regardless of the season."
To invest in top-quality classics, whether it be fashion or accessories, look for goods made of the finest materials with obvious and/or renowned workmanship like fine stitching on a leather handbag or a beautiful clasp in a piece of jewelry that need not be hidden so that it becomes part of the design. Also ask about how the piece is made. Research the brand carefully to learn about the skills and manufacturing details that set them apart. As an example, Assael is globally known for using only the most magnificent saltwater pearls, and their workmanship is equally renowned, whether it be in clean simple jewelry designs or the very finest stringing for strands of either pearls or coral.
Keep in mind that "classic" does not have to be something that has been done before. Your personal style can shine through by wearing a new or modern classic, such as the Assael "New Deco" ring (seen in the feature image at top), or our Frame earrings or the Floating Bubble neck wire by Sean Gilson for Assael (both frame earrings and wire necklace are featured below in Elevate Your Wardrobe Basics).
Make sure your wardrobe has a cinch-wasted blazer with a precision cut in a solid-color and fine textiles. A blazer cut to hug your body will serve you well and can be worn with many of your favorite blouses, sweaters, or dresses throughout the year. Also consider a power suit, even one with shorts instead of a skirt or pants for a contemporary look. Find a beautiful, handcrafted brooch made of lasting materials that you can wear on the lapel as your own signature motif.
The quintessential trench coat is also a must. The trench is trending, showing up on many fashion runways. Leave shorter ones open and draped across the shoulders. For longer ones, belt or button them tightly at the waist only. Shop for high-quality fabrics, be it leather, drapey cotton, or gabardine. Such outerwear will serve you well for years and can sum up an overall refined quiet luxury ensemble.
For an exclusive or personal touch, add a pair of statement sunglasses. Think of the Roy siblings in the final season of Succession. A trophy handbag, also with clean silhouettes and made of the finest materials, adds to the "old money" nonchalance. Top it all off with bold but simple jewelry – see more jewelry ideas throughout this post. 
Stick to Neutrals Sans Logo
The stealth wealth look calls for a clean aesthetic and a neutral palette. Whites, grays, khaki, and black – all with precision tailoring – in premium clothing with particular attention to details like cut, quality, and design. Epitomized by designers like Brunello Cucinelli, Ralph Lauren, Jil Sander, Celine, Loro Piana, The Row (by Mary-Kate and Ashley Olsen), Khaite, and Tove, the ensembles are created with sweaters over slacks, layered looks with outerwear, and wide-shouldered suits or blazers. With a nod to gender-neutral styling, the outfits are influenced by menswear, reminiscent of Katherine Hepburn's trousers and her brave female empowerment vibe of the 1930s and '40s, reacting against the "old Hollywood" idea of female glamour. Wide-legged slacks, pantsuits, and jumpsuits can all achieve the refined look of quiet luxury, so long as they are monotone and well-tailored.
Jewelry and accessories are also less colorful, as lustrous pearls, all-white diamonds, and plain gold all stand the test of time, giving credence to the current focus on environmental values. Wearability ranks above ephemeral fashion. Gone are the days of wear-it-once and toss it – good news for those looking for an excuse to buy more jewelry!
The look is also void of visible logos and/or commercial branding. According to Harper's Bazaar, "the underlying ethos has always prioritized craftsmanship, quality, and elegance… and discreet branding (no logos)." Accessories like handbags are no exception – choose quality over quantity and seek out fine materials and finishing touches, as opposed to patterns of logos or logo'd hardware. Even makeup takes on a more neutral palette with blending becoming more important than ever. According to Bustle, quiet luxury, "simply put, it's where minimalism meets modesty for a timelessly chic result… Think lush skin care without all the fuss and creamy blush formulas that blend like a dream for a flirty flush."
Elevate your wardrobe basics
According to Vogue editors, "quiet luxury is a look that will stand the test of time, as it's essentially a synonym for elevated basics." Shop for new white tee shirts, button-up blouses, and tank tops. These look crisp, clean, and fresh with the season's cargo pants, blazers, or tailored denim. Classic sweaters like the V neck become the "prized layering piece" (Vogue), and all the pants outfits (short and long) are paired with a fabulous pair of luxe loafers.
For accessorizing, jewelry wardrobe basics include a magnificent pearl strand, a chunky gold chain, a statement cuff bracelet or a serious set of stackable bracelets, and earrings that work well with your face shape. Find pieces you will wear on a regular basis, making them well worth the investment.
The best news is that the overall vibe of quiet luxury is a comfortable one. It has an intentional carefree essence and allows us to show up without showing off, to dress up without feeling overdressed, and to let our jewelry do what it does best – add a bit of elegance to our everyday lives. Shopping for fewer but better things also creates more of a treasure hunt. So, have fun on your search – enjoy the journey and the final destination when you look in your full-length mirror. Happy dressing to all!
Feature image at top – clockwise from upper right – Assael Blossom earrings in South Sea pearl and 18K gold, Extra Large 2 Bubble Ring by Sean Gilson for Assael, Elegance with Attitude campaign image by David Benoliel – model wears Assael Tahitian Pearls and Assael In Reverse earrings from The Colors collection, Khaite Resort 2024 (Spotlight Launchmetrics), MaxMara F/W 2023-23 (Getty), Assael Light Silver Tahitian Pearl strand
Articles you may also enjoy
Join us for magnificent pearl trends and exclusive treasures. Discover a world that is truly ... beyond rare.
Consider this your invitation to the House of Assael. Find your closest luxury jeweler using our map search and start your journey to timeless elegance.