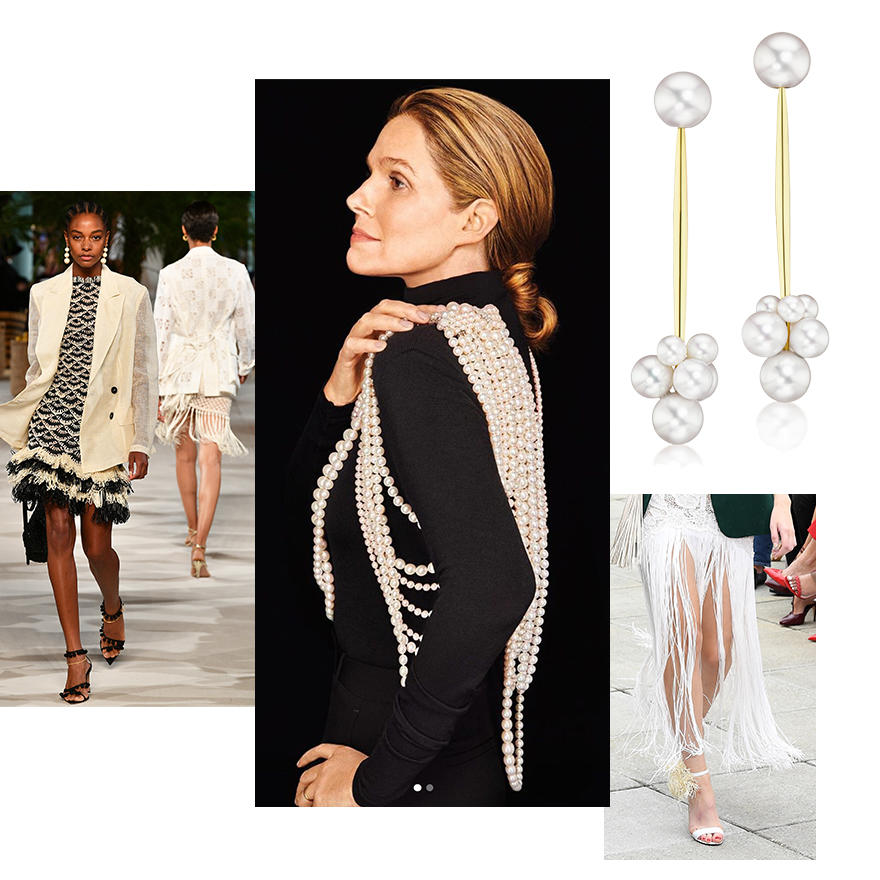 The Roaring 20s – Fashion Inspiration for the New Decade
As we enter 2020, I keep hearing inspirational references to the "new decade" and the "Roaring '20s." It naturally brings to mind the excitement of the exuberant and decadent pop culture from the 1920s.  Perhaps it's the bevy of period-themed entertainments (television shows like The Crown or recent movies like Downtown Abbey and last year's The Favourite), but visions of lavish Gatsby-esque parties keep floating through our heads here at Obsessed by Pearls. In addition, the legend of the infamous flapper and the burgeoning trend of female empowerment (think of the female suffrage movement and the daring innovation of women wearing pants) also resonates these days, in more ways than one.  The famous adage "what's old is new again" rings true on so many levels this year.
The fashion world is embracing some of the very same inspirations that gave rise to the flirty flapper and to the brave and iconic female designer Coco Chanel. From power pearls to pantsuits, the 20s are off to a bold start with the image of an empowered, self-assured woman leading the way.
The Flapper Returns – Updated Sheaths and Plenty of Fringe
The 1920s call to mind the adorable "flapper" dancing the Charleston with fringe and flair, while sporting a chic domed or bell-shaped hat called a cloche. As we move into the 2020s, the flapper is quite literally re-emerging. Kendall Jenner went "full on flapper" (MTV) a few years back in her appearance in the Givenchy S/S 2016 fashion catwalk, inspiring a world of young women to embrace the look. Social media sensation Paris Hilton was bedecked in beaded fringe at the Vanity Fair X Amazon Studios Awards Season Celebration 2020. That boyish, tubular shape of the sheath dress is also making a comeback – Oscar de la Renta included various fringed and jacketed sheaths to his Spring/Summer 2020 runway.
In the post "Me Too" era, women are claiming their seat at the table with blazers, sheaths, pantsuits and power pearls.  According to the Metropolitan Museum of Art's "Jewelry the Body Adorned" exhibit, the flapper of the 1920s had turned to pearls as a powerful "symbol of a wholly modern liberated woman." Is it any wonder we are now seeing a plethora of pearls in fashion these days? The newly published February issue of Town & Country has a splendid pearl cover story featuring Aerin Lauder wearing ropes and ropes of pearls, recreating a Vogue 1970 iconic fashion image. Choker length pearl strands made a striking statement for Christian Dior at the A/W 2020 show, and the recent Golden Globes red carpet was filled with 1920s style choker necklaces.
Mod Art Deco – Geometry Rules
Another predominant theme in all things artistic of the 1920s, especially fashion, jewelry and architecture was the beloved genre of Art Deco.  Geometry ruled the day, and modern designers are once again reviving those angular shapes and silhouettes with new Mod Art Deco styling.  The Givenchy Spring/Summer 2020 runway was awash in colorful geometric shapes. Jewelry designers are also embracing the look. Assael's Fan-shaped Aquamarine and South Sea Pearl earrings reinvent the luxury of the bygone era. Many of Assael's new earrings from The Colors 2020 Collection create charming tributes to Art Deco in perfectly modern drop/dangle/stiletto style earrings.
Hair Accessories – Hair Jewels and Hats Reimagined
Hair accessories were a fashion must in the Roaring 20's. No Great Gatsby or Downton Abbey themed costume party would be complete without tiaras, headbands, feathers and bejeweled hairpins. In similar fashion, pearl barrettes and headbands are all the rage now thanks to Chanel and Simone Rocha.  We chronicled a whole slew of Pearls in the Hair trends here at Obsessed by Pearls, and Cosmopolitan magazine recently listed pearls as one of the top ten "Spring Hair Trends 2020."  We also could not help but notice the wonderful array of hats on the runways. Christian Dior's prolific hats paired with choker length pearls could have taken their cue from the Vogue 1920s cover featured here.
If you have pearls at home in your fine jewelry wardrobe, now is the time to get them out and pile them on!  Or wear them in the hair or across the brow. Don't have enough?  Visit assael.com to find the retailer nearest you to start or add to your personal pearl wardrobe. Have fun exploring multiple layers and lengths or discovering the right style of pearl earrings to suit you and your inner flapper.  And if you will pardon the pun, we are women, so let us roar into the 20s like never before!  #liveloveluster #powerpearls
Feature/Top Collage – Clockwise L to R – Oscar de la Renta Spring 2020, Aerin Lauder as photographed by @ruvenafanador for Town & Country February 2020 wearing Assael pearls, Akoya Pearl Linear Bubble Earrings by Sean Gilson for Assael, Oscar de la Renta Spring 2019
Articles you may also enjoy
Join us for magnificent pearl trends and exclusive treasures. Discover a world that is truly ... beyond rare.
Consider this your invitation to the House of Assael. Find your closest luxury jeweler using our map search and start your journey to timeless elegance.