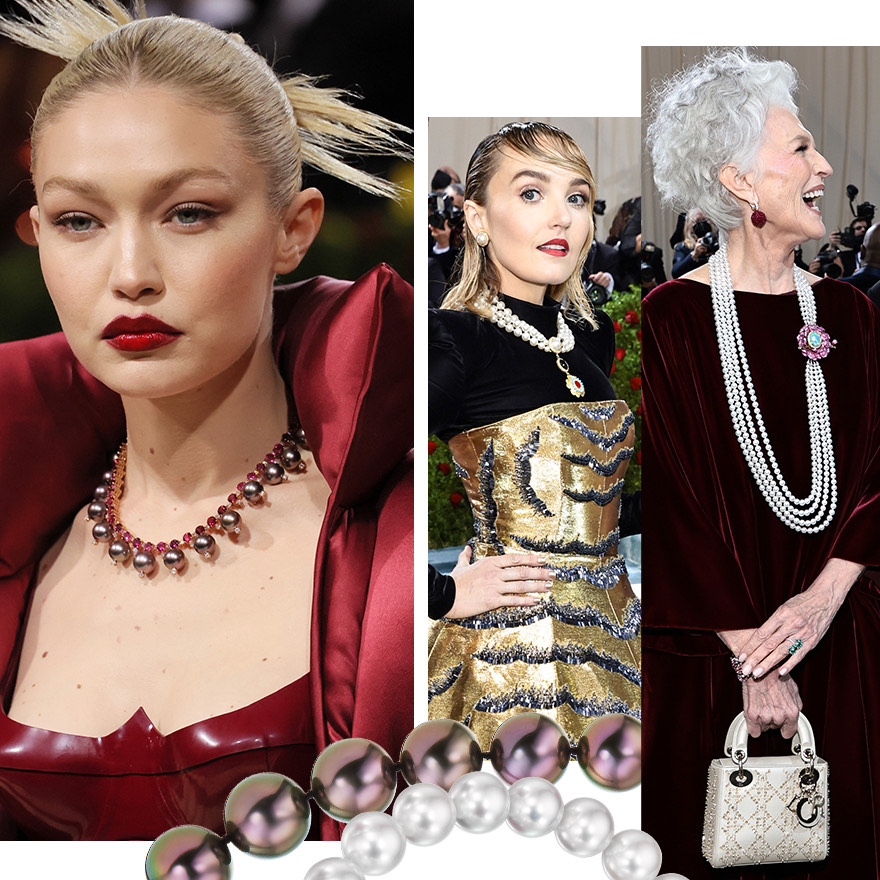 Met Gala Jewels 2022 – Pearls on Parade
The 2022 Met Gala in New York City on Monday was particularly colorful, from the exotic fashions reflecting the "Gilded Glamour" theme to the fabulous accessories, especially pearls. A multitude of white pearls and some smoky Tahitian pearls appeared on the Red Carpet at one of Fashion's biggest nights. Here, we explore the lustrous pearls on parade – the pearl necklaces and earrings worn by the many celebrities, including inspirational new ways to wear the classic pearl strand.
Pearl Choker Necklaces Favored by Harrier, Elesser, and Valletta
Vogue described the "Gilded Glamour" theme as a throwback to the late 19th century, between 1870 and 1890, a time "of unprecedented prosperity, cultural change, and industrialization, when both skyscrapers and fortunes seemingly arose overnight." The celebrities in attendance at the annual gala fully embraced this year's theme with a plethora of luxury. Several stars donned choker necklaces worn above the clavicle for a dramatic visual appeal. Model and actress Laura Harrier wore a custom-made, hand stitched H&M corseted gown by designer Victor Glemaud with a three-strand pearl choker featuring a mix of classic white and colorful pearls and Tahitian pearl and diamond drop earrings.
Plus-size model Paloma Elesser donned a corseted white Coach gown with a choker necklace featuring a stack of pearl strands and a single baroque pearl pendant, the white pearls paying perfect complement to her all-white gown. According to Harper's Bazaar, although "Elsesser's Coach ensemble was created especially for her, parts of the dress were actually made from repurposed materials, particularly the lace in the skirt, which was made using dresses from the 1930s."
Internationally renowned cover girl Amber Valletta appeared on the Red Carpet in a 1980s pleated gold Azzaro dress. The plunging V left her neckline open for a statement necklace in gold and pearls. The supermodel also sported pearl and gold rings and gold cuff bracelets on both wrists.
Pearl Drop Earrings Featured by Bella Hadid, Tessa Thompson, Maggie Rogers, and Taylor Hill
Pearls also made bold statements on the earlobe at the Met Gala this year. Bella Hadid opted for diamond and pearl drop earrings to accessorize her Burberry leather and lace gown, a feminine touch to contrast or balance the sheen and strength of the patent leather. Film and television actress Tessa Thompson wore a pale pink Carolina Herrera gown, perfectly accented by graceful diamond and pearl drop earrings.
Singer-songwriter Maggie Rogers appeared in a sheer vintage-inspired two-piece black gown studded with pearls. A simple pearl cross belt, some thin silver bangles and diamond and pearl drops earrings were her minimal accessories. The pearl earrings brought luster and attention to her face, as opposed to the braless see-through top. Model Taylor Hill featured a lengthy pair of pearl, diamond, and gold chandelier earrings, the perfect accent to her vintage up-do. The pearl earrings brought a regal air to the royal blue Miss Sohee for Dolce & Gabanna strapless gown that featured an expansive train embroidered with a myriad of colorful flowers. Both the train and the earrings were long enough to make even the most beautiful bride jealous.
Fun New Ways to Wear Pearls, Seen at the Met Gala 2022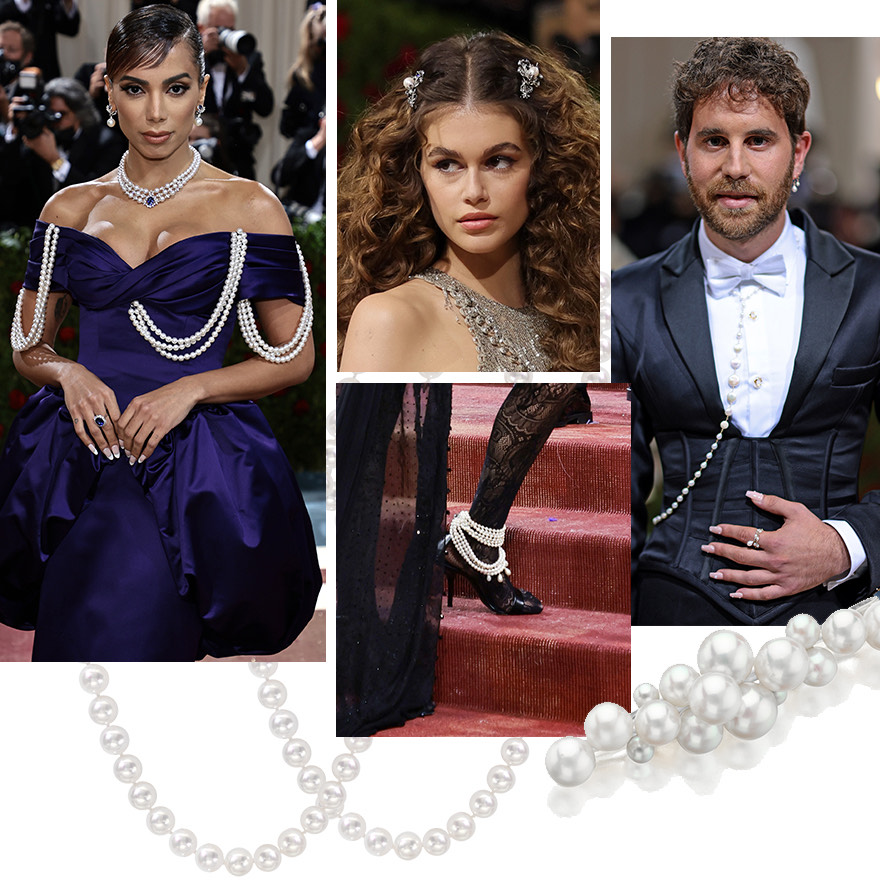 Several of the Red Carpet looks at the Met Gala featured pearls worn in creative and fun new ways. Latin pop singer Anitta stunned the crowd in a royal purple Moschino gown from designer Jeremy Scott with three long strands of pearls looped through the off-shoulder straps and slipped through the bodice of the gown itself, appearing to undulate through her dress. She topped it off with a short multi-strand pearl statement necklace and pearl drop earrings. The look was innovative, eye-catching, and incredibly inspirational for all pearl lovers.
When we say celebs were dressed "head to toe" in pearls, we mean it. Model Kaia Gerber, daughter of supermodel Cindy Crawford, opted for brooches as a nod back to the Gilded Age, placing them in her fabulously curly hair atop a floor-length silver fringe gown. The large pearls in the brooches beautifully balanced the metallic shimmer. Bella Hadid wrapped a few pearl strands around her leg as an anklet over sheer lace tights. The effect was bold, dramatic, and exuded sex appeal.
Actor Ben Platt is one of the latest to continue the man pearl trend, but his Met Gala 2022 look showed men a clever new way to wear it. He sported a lustrous graduated pearl strand worn outside the bodice of his tuxedo, a nod to the pocket watch chains from the era of the Gilded Age. He also wore two pearl drop earrings on his left lobe, along with a forefinger ring that featured a dangling pearl charm. Paapa Essiedu also dressed up his chic dark suit with an emerald and pearl choker-length necklace and a long pearl chain with emerald stations and a cross pendant that swayed across his shirtless torso.
Director Julie Dash Wears Assael to Host Her Rooms
Award-winning director Julie Dash was one of nine filmmakers invited to style transformational themed rooms for an upcoming exhibit at the Metropolitan Museum of Art. Dash was on hand at the gala to host the unveiling of her Greek Revival Period parlor. She was decked out in a purple power pantsuit by Renee Bishop of the Fashion Collection "Deity New York." Assael worked with Costume Designer and Fashion Stylist David F Zambrana to find the perfect brooch to bring the look to life. The vintage Assael fish brooch features a large 23 mm South Sea Baroque Pearl as the head of the fish, while its body is covered with scales made of blue and orange sapphires, green tsavorites, as well as black and white diamonds.
The one-of-a-kind accessory rarely makes an appearance outside of the Assael vault, and the Met Gala offered the perfect opportunity for it to resurface on the Red Carpet. Dash also wore the Angela Cummings Gold and Pearl Scallop bangle bracelet and a Golden South Sea Pearl strand wrapped as a bracelet around her wrist, as well as a statement gold necklace from New York designer Tess Sholom.
Feature image at top: Left to Right – Gigi Hadid in Versace and a Tahitian Pearl and Ruby necklace, Chloe Fineman in Miss Sohee and a multi-strand pearl statement necklace, model Maye Musk in a 4-strand pearl rope necklace with floral clasp, at bottom Assael Tahitian Pearl strand and Assael South Sea Pearl strand
If you liked this, you might also like:
Garden Party – Spring/Summer 2022 Fashion Trends
Top Bridal Trends from NYFW Bridal Week
Pearls in Portraits – The Epitome of Sophistication for Thousands of Years
Pearls of Wisdom from Jewelry: The Body Transformed Exhibit at the Metropolitan Museum of Art
Articles you may also enjoy
Join us for magnificent pearl trends and exclusive treasures. Discover a world that is truly ... beyond rare.
Consider this your invitation to the House of Assael. Find your closest luxury jeweler using our map search and start your journey to timeless elegance.