Fall Fashion Forecast: Celebrating The Modern Mix
Just when we're finally ready to spring forward, fashion asks us to fall back in love with fall. The Fall/Winter 2018-19 Ready-to-Wear shows have all wrapped up and editors are busy culling the best looks for their September issues. Several key trends have emerged from the New York, Milan and Paris collections, not the least of which involves extraordinary accessories. Next season will deliver a modern mix of high and low, athleticism and glamour, menswear tailoring and feminine flourishes. The secret to making it work is all in the details.
Michael Kors pairs bold plaids with animal prints, romantic florals, dots and stripes. He calls this collection Transeason 2018, showing furs with flowered skirts and dresses, many accessorized with strands of pearls. Versace embraces plaid as well, mixing different colored tartans with berets and brooches. Balenciaga combines checks with florals, a look that clearly calls for the balance of a solid necklace.
Karl Lagerfeld takes fall seriously (and literally); his Chanel show at the Grand Palais in Paris featured thousands of dried autumn leaves on the floor! Lagerfeld's suits for fall star nubby tweeds shot with Lurex, and a signature leaf print mixed with metallics. Accessories include fingerless gloves, long layers of pearls and chains (at the waist as well), mismatched earrings, coral-colored scarves, and oversized envelope bags or round cross-body styles. 
BTW, the leaf motif turned up in collections on both sides of the pond, embroidered on tops and jackets, or fashioned into jewelry.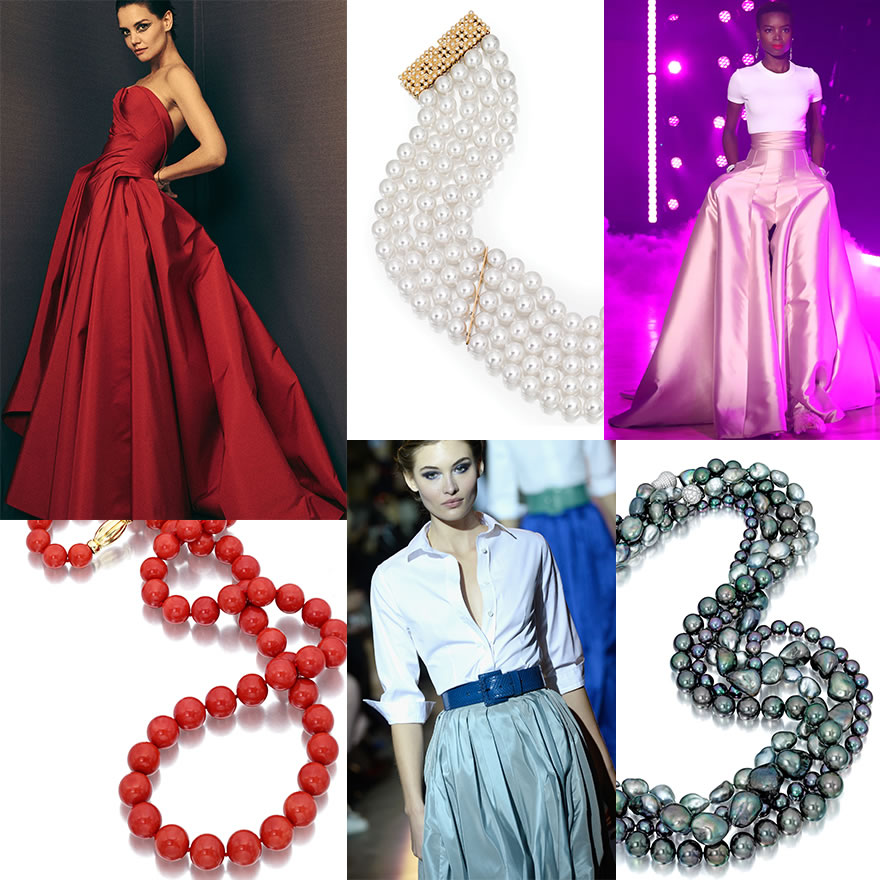 At Zac Posen there is a ladylike grace reminiscent of 1950s designs by Charles James and Mainbocher. Modeled by Katie Holmes, Posen's collection includes sculpted silk faille dresses, some with matching voluminous capelets. Carolina Herrera, in her last show as Creative Director, returns to her signature ballskirts teamed with crisp white shirts. Punctuated by contrasting belts, these are timeless classics for fall galas or special evenings at home.
Click here to go behind the scenes with Michael Kors as he discusses his Transeason 2018 collection.
Fashion Credits. Image 1, Top of Post, Clockwise: Goggles, Gemma Hoi; Sally LaPointe; Chanel; Antonio Marras. Image 2: Fur, Plaid, Argyle Looks, Michael Kors; Sunglasses, Valentino; Black & White Shirt, Dion Lee. Image 3: Print Dress, Chanel; Tweed Suit, Chanel; Leaf Motif Tops, Oscar de la Renta. Image 4, L to R: Katie Holmes in Zac Posen, Courtesy of modaoperandi.com; Carolina Herrera; Brandon Maxwell. 
Articles you may also enjoy
Join us for magnificent pearl trends and exclusive treasures. Discover a world that is truly ... beyond rare.
Consider this your invitation to the House of Assael. Find your closest luxury jeweler using our map search and start your journey to timeless elegance.