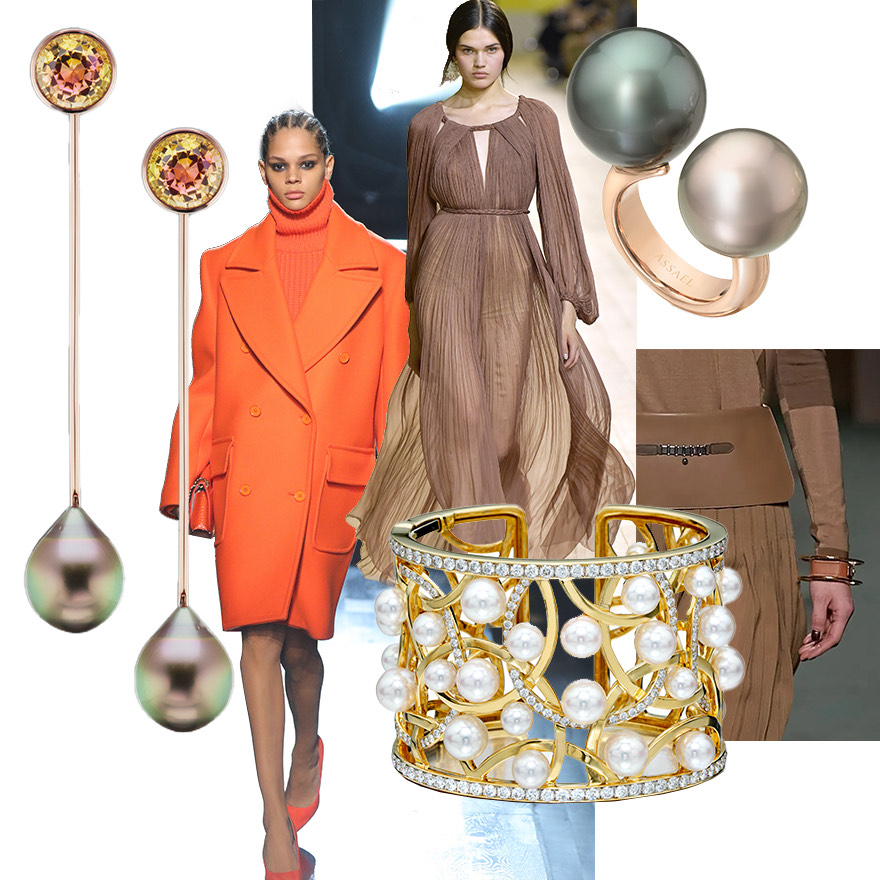 Autumn/Winter 2022-23 Fashion & Jewelry Trends – Make a Big Bold Statement!
The beloved promises of Autumn are finally coming – cooler temperatures, changing leaves, and dramatic new fashions to bring a hint of excitement and sophistication to our daily routines. Some of the Fall/Winter 2022-23 trends feel celebratory and powerful, and all point toward a sense of boldness. Big bangles and large pearls adorn bold silhouettes with strong shoulders or long hemlines. The mood is daring, feminine, and commanding. Here, we take a look at some of the most prevalent fashion and jewelry trends from the runways of New York, Paris, London, and Milan.
"Fall is the best season for those who love the art of dressing," says Peggy Grosz, Senior Vice President and designer at Assael. "Temperatures somewhere between hot and cold give us permission to indulge in luxurious fabrics, fun layers, and almost every jacket or blazer in our wardrobes. Magnificent pearls or the perfect coral strand can pull any look together with a refined sense of sophistication. It's often better to glow than sparkle."
Plenty of Pearls
The press dubbed it "More Pearlcore" (The Zoe Report) and "Pearls of Wisdom" (Marie Claire), and it is clear that fashion's Pearl Revolution is still going strong for Fall/Winter 2022-23. Not just for women – the gender-bending trend of men in pearls also remains strong. Pearls for this season are delightfully big – gobsmacking and gorgeous, "pearls the size of jawbusters" (Vogue). Sizable pearl chokers were featured high on the collarbone at Givenchy, Simone Rocha, and Versace, as well as at Fendi menswear.
Large baroque pearls were also swinging as drop earrings at Tory Burch, Dior, Erdem, and Undercover, or bouncing as fringe in flapper style frocks at Givenchy. Bold pearl statement rings also appeared at Oscar de la Renta, Adeam, and Versace. Pearls on the runways also ran the gamut this season from eveningwear at Givenchy to casual hoodies at Dolce & Gabbana to outerwear brooches at Simone Rocha, proving the enduring relevance and versatility of the perfect pristine pearl.
Wrist Statements
Powerful jewels will also play a part at the wrist this season. Go big or go home with the "off the cuff" (Vogue) look this winter. Large cuffs dominated at Balmain, Alexander McQueen, Alaïa, Loewe, Jil Sander, Chloé, and Rick Owens, while stacks of bangles made towering statements at Saint Laurent, Amush, LaQuan Smith, and more. Worn with basic blacks in catsuits and long dresses, the "brigade of bangles" (Marie Claire) is edgy but refined, packing a powerful punch à la the famed Nancy Cunard Deco era photos.
Assael's Luminosity cuff makes a powerful and bold wrist statement, featuring 23 Natural Color Tahitian Cultured Pearls amid cabochon Moonstones and multi-color Lavender Spinel. Seen at Halpern, Armani Privé, Hermés and more, the striking effect of a large cuff bracelet makes a remarkable and singular statement of style. Pearls at the wrist add an understated touch of sophistication, perfect with denim or any of the long flowing looks for the season (see section on "long looks" below). The Flex bracelet by Sean Gilson for Assael can be stacked in multiples or worn with gold bangle bracelets to mimic the Fall/Winter looks at Saint Laurent, or the Bubble bracelet, also by Sean Gilson for Assael, can bring a hint of femininity to trousers, trench coats, and wonderfully bulky sweaters.
Oversized Shoulders
Shoulders also took center stage on runways this season. With a nod back to the shoulder pads of the 1980s, "shoulders make the suit" (Vogue) in "'80s Baby" looks (Harper's Bazaar). Shoulders in pantsuits, blazers, and three-piece suits made power plays at Louis Vuitton, Gucci, and Ferrari, among countless other F/W 2022-23 Couture shows. Bomber jackets also ruled in street-smart chic styles over lingerie-like gowns at Miu Miu or atop dark denim sans blouse at LaQuan Smith.
With sleeves a-sloping, bold accessories are required. Drop earrings with large pearls, cocktail rings, and/or wrist statements (see section above) perfectly adorn the look. Given the return of basic black this season, consider the dark, alluring mystery of Tahitian pearls as an elegant accent. Or for the more colorful suits, highlighter hues, and bold outerwear at Michael Kors, D&G, Missoni, Oscar de la Renta and more, consider adding similar hues from The Colors collection by Assael like the bicolor tourmaline and baby Akoya ring.
Long Looks
"Hemlines hit the floor" (Vogue) for F/W 22-23 in everything from evening gowns to full body catsuits and jackets with flowing bridal-like trains. These floor-sweeping silhouettes (WhoWhatWear), both dramatic and fun were seen at Saint Laurent, Ludovic de Saint Sernin, Givenchy, and more. And "Rokh made a case for the ground-grazing duster jacket" (WWD). These looks call for dramatic drop and chandelier earrings or armfuls of bangles (see section above).
Dubbed the Long Way by Harper's Bazaar, the new "LBD" is for the long black dress. Style them with plunging pearl strands, stiletto or lengthy drop earrings, and consider contrasting the all-black looks with a bright spot of color with Sardinian Coral.
Also en vogue for the coming months are over-the-knee boots worn with miniskirts, lingerie inspired looks beneath bulky outerwear like bomber jackets, new expressions of Art Deco and Flapper style fringe in both skirts and dresses, lots of leather, and despite the various pops of bright color, the ubiquitous allure of black. The classic white tank top also returns in several collections this season – dress it up with Coco Chanel's "ropes and ropes of pearls" to add a touch of class. Whatever looks you embrace for the colder months ahead, remember to keep the accessories bold and playful, large and luxurious, sophisticated and singular. Stay warm and have fun!
Feature image at top – clockwise from upper right – Extra Large 2-Bubble Tahitian Pearl Ring by Sean Gilson for Assael, Hermés F/W '22-23, Assael Circles Akoya Pearl and Diamond Cuff, Michael Kors F/W '22-23, Assael Tahitian Pearl and BiColor Tourmaline Drop Earrings, Christian Dior F/W '22-23
If you liked this, you might also like:
Met Gala Jewels – Pearls on Parade
2022 Color Forecast – How to Accessories Pantone's Palette
Articles you may also enjoy
Join us for magnificent pearl trends and exclusive treasures. Discover a world that is truly ... beyond rare.
Consider this your invitation to the House of Assael. Find your closest luxury jeweler using our map search and start your journey to timeless elegance.