Oscar Inspirations – Picking the Best Earrings for your Face Shape
The Oscar red carpet this weekend was dazzling with diamonds as always, but what stood out most this year was the sparkling array of fabulous earrings!  No surprise, because earrings are a natural complement to a woman's radiant smile.  Yet selecting the perfect pair of earrings can be a daunting task for many women.  Since most of us do not have highly paid Hollywood stylists for such thoughtful selections, we've put together some great advice to help.
In the salon world, ladies' faces are generally categorized by shape – oblong, oval, round, heart-shaped, square, rectangular, diamond, triangular, etc.  These shapes help determine the most flattering hair styles, and they also help determine the most flattering earring styles.  Start with a style that compliments your face shape, and then can choose your favorite colors, metals or gems.
LONGER FACE SHAPES – Oblong, Oval, Rectangular
Longer face shapes like the oblong, oval or rectangular faces, which have a longer distance from forehead to chin, often look best with lengthy drop or dangle earrings. Using a long drop earring accents the shape of the face, as opposed to working against it, thereby creating a more flattering overall look.  Don't be afraid to be bold – go for shoulder dusters and over-sized hoops or chandelier styles with more linear designs.
SHORTER or PETITE FACE SHAPES – Round, Heart, Triangle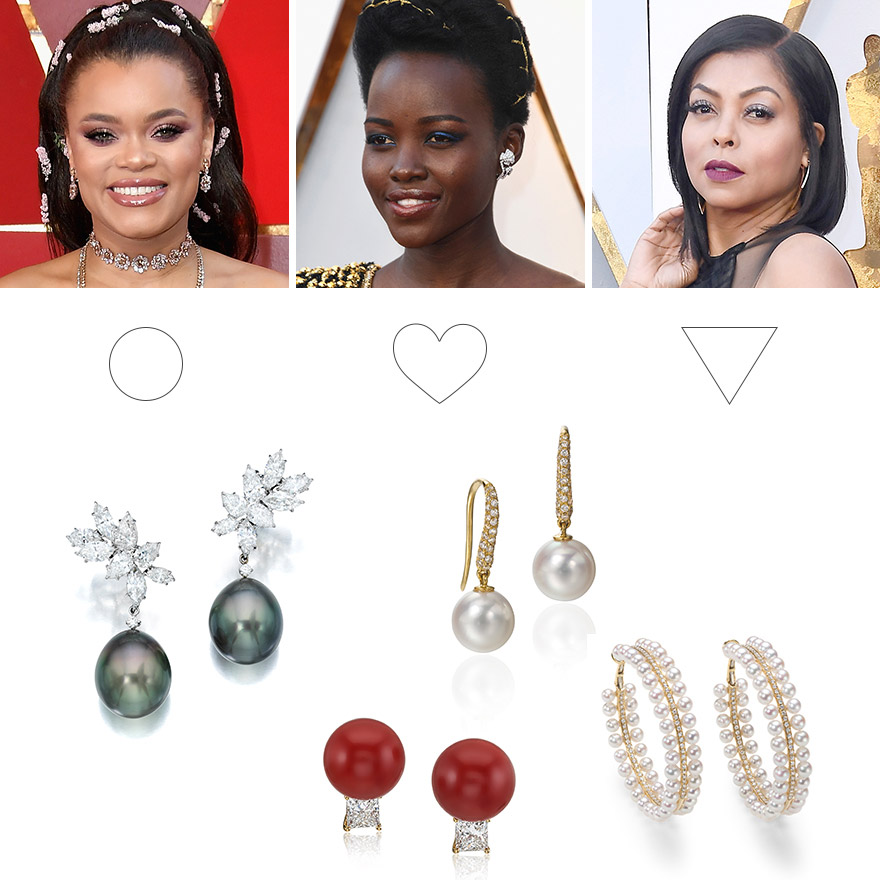 Shorter face shapes like round and triangle faces tend to look better with button or short drop earrings.  Perhaps a single baroque pearl clip that sits high on the lobe or a small round pearl drop, maybe even a small or medium sized hoop earring.  Ladies with more petite face shapes should make sure the earring does not drop below the point of the chin.  Keeping the earring short and high flatters the face and brings attention up to the face as the lady is talking.  For chandelier earring fans, only use the shorter versions for smaller faces.
WIDER FACE SHAPES – Diamond, Square, Inverted Triangle
Wider face shapes like the diamond, square and inverted triangle often have prominent cheek bones, which lead the eye up naturally toward the eyes and ears.  These ladies can get by with statement earrings – large chandeliers, oversized hoops or wider drop styles.   Baroque pearl drops are great for these ladies.
Articles you may also enjoy
Join us for magnificent pearl trends and exclusive treasures. Discover a world that is truly ... beyond rare.
Consider this your invitation to the House of Assael. Find your closest luxury jeweler using our map search and start your journey to timeless elegance.