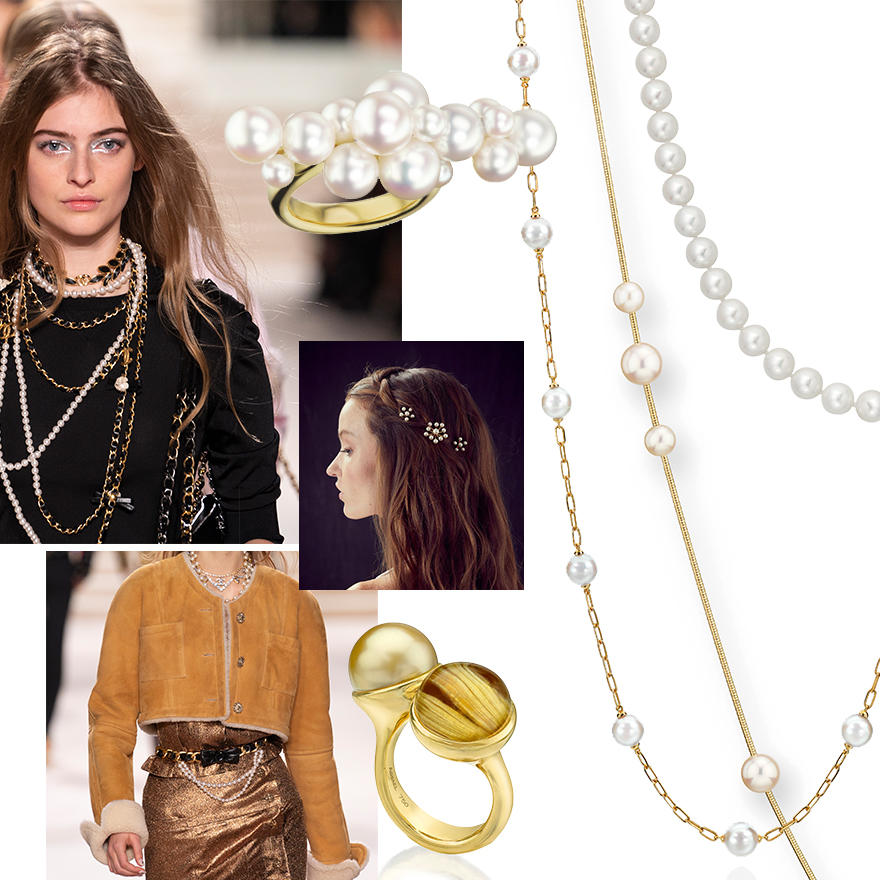 Fun New Ways to Wear Pearls Now
With the wide array of pearls in the fashion media these days, there has never been a better time to wear your favorite pearls. But feel free to get creative!  Take some cues from celebrity red carpets, fashion runways and leading influencers.  Here at Obsessed By Pearls, we spoke with some professional stylists to gather fun ideas for wearing pearls in more modern ways – creative tips for using pearl jewelry as a fabulous part of your everyday wardrobe.
Accessorizing with Pearls
To give yourself more opportunities to wear your favorite pearls, some stylists recommend accessorizing with pearls.  NYC stylist Kathie Young says, "For me, the most exciting options for the season are using brooches and swagging pearls between two pins."
Stylist and CBS Trend Tracking Reporter for New York City and Atlanta, Shaye Strager says, "I'm obsessed with pearl headbands. Pairing them with cashmere sweaters, pearl drop earrings and or a pearl cocktail ring makes it all feel fresh and uber fashionable."
Or try using pearls on other accessories like handbags and shoes. Young advises, "use a clip-on earring with a collared shirt at the top of the button placket, as if it were a clip-on tie.  The appearance is that of a pin, but if a dangling earring, it will look like so much more."
Layering & Longer Lengths
Fashion spreads in recent publications like Town & Country and the Wall Street Journal are celebrating the abundant luster of pearls by piling them on and mixing them with other materials. Allison Janney wore a pearl fringe dress at the recent SAG Awards. Shaye Strager loves to mix her pearls with chain links. "For a modern and more fashion-forward look, I like pairing pearl strands with gold necklaces and layering them on crisp white button-down shirts with cropped leather jackets."
Other really fun options, according to Kathie Young, include "doubling or tripling a strand to wear as a bracelet or using pearls as a belt, again with a giant brooch as the buckle. This is a great and very modern look for jeans and gowns."
Try draping your pearls across one shoulder or tucking them inside the pantsuit like Marisa Tomei at the Venice Film Festival. Kathie Young suggests military inspiration for the modern pearls look. "Let the pearls cross over a button placket, à la military style, or drape them across brooches on the same side of a jacket, going from lapel to just near the shoulder."  Or try the head-to-toe pearl approach like Shaun Ross's incredible pearl coat and boots paired with baroque pearl drop earrings at the Grammy's.
High-Low Style
With the elevation of street style and informal attire like loungewear, hoodies and designer jeans, pearls can be a fabulous way to keep your casual wardrobe chic and fashion-forward. Mix your pearls with your favorite leather jacket. Or join the mismatched earrings craze, and wear your pearl drop earring on one ear and a pearl stud on the other ear. Hoop earrings are also trending – find a fun pearl hoop to wear with your favorite strands.
Strager suggests wearing pearls to easily transition from day to night wear.  "I'm pairing my own baroque pearl choker with silk T-shirts and blazers over jeans and boots for work. I love making a denim statement outside of the weekend, and pearls are just the trick to take it from casual to corporate."
"As per the recent Inbal Dror show, giant oversized pearls making headbands is really fun," says Young.  "Pearls in the hair can be worn with casual outfits like jeans and dresses, or with more elegant gowns, including bridal."
So many fun new ways to wear pearls these days… what are you waiting for?  Visit Assael.com to discover chic new styles of earrings or find the perfect Akoya strand at the length and size you prefer. Use our store locator to find a retailer near you where you can try on our pearls with some of your favorite outfits and accessories.
Featured Image at Top – Clockwise L to R – Chanel Metiers D'Art 2019-2020, Akoya Pearl Linear Bubble Ring by Sean Gilson for Assael, Akoya Pearl Station Chains from Assael, Essentials Akoya Pearl Necklace from Assael, @jenniferbehr, Assael Golden South Sea Pearl and Rutilated Quartz Ring, Chanel Metiers D'Art 2019-2020
If you liked this, you might like these Obsessed By Pearls posts:
Cool Girl Pearls – Fashion Style Tips Straight from the Stylists
Baroque South Sea Pearls and How to Wear Them
Resort Report – How to Wear Pearls and Coral by the Water
Magnificent at Every Age – How to Wear the Luxury of Pearls at Every Stage of Life
Articles you may also enjoy
Join us for magnificent pearl trends and exclusive treasures. Discover a world that is truly ... beyond rare.
Consider this your invitation to the House of Assael. Find your closest luxury jeweler using our map search and start your journey to timeless elegance.