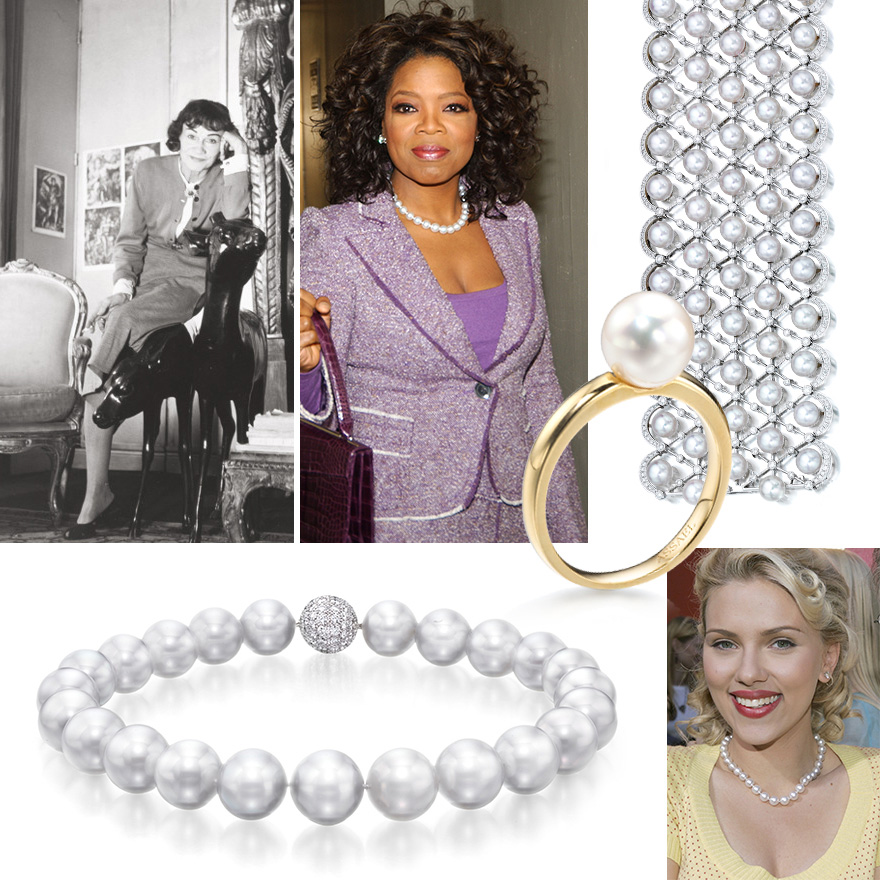 Power Pearls…and the Women Who Wear Them
What do Oprah, the Duchess of Cambridge, Coco Chanel, Scarlett Johansson, Michelle Obama, Katharine Graham, Zendaya and Katherine Heigl have in common? Two things… Power and Pearls.
Over the holidays I binge-watched both seasons of The Crown on Netflix; I was obsessed. It occurred to me that Claire Foy's brilliant portrayal of the young Queen Elizabeth II has had a major influence on the recent resurgence of pearls. Hardly a scene goes by that Elizabeth is not wearing pearls: one, two and three strands as she grows. Long a symbol of elegance and good taste, pearls remain this beloved monarch's personal signature, symbols of her presence and her power.
Today, the Queen's granddaughter-in-law Kate Middleton is a role model for millions of young women worldwide. The 36-year-old Duchess of Cambridge favors cultured pearl chokers, pendants, timeless studs, and drop-style earrings—some from the royal collections, others from High Street.
In every walk of life, including politics, journalism, the arts, even sports, there are women in powerful positions whose personal style includes great pearls, often worn daily. Take the late Katharine Graham, for instance, the 1970s-era publisher of The Washington Post, played by Meryl Streep in Steven Spielberg's new film, The Post. Like Oprah and other prominent women in the media today, Graham's cultured pearl necklaces and earrings were staples of her working wardrobe.
Many First Ladies including Michelle Obama, Barbara Bush, and Jacqueline Kennedy wore pearls regularly for their official White House duties. And some of the most powerful women currently working in Washington are photographed daily in their signature pearls.
It was Coco Chanel who in the 1930s first popularized pearls as everyday jewels. She was famous for saying, "A woman needs ropes and ropes of pearls." Chanel knew that pearls have the versatility to empower women to create their own style statements. Today, young influencers like Rihanna and Zendaya wear pearls in new ways on the red carpet and in their private lives. And starlets like Scarlett Johansson and Katherine Heigl regularly grace the red carpet in luminous pearl strands and ropes.
What is it about pearls that makes remarkable women of every age want to wear them every day? I believe it is because pearls have the power to illuminate the face like no other gem. They actually enhance and contribute to the inner glow that comes from self-esteem. Which is why many women won't leave the house without them.  Wear them and I think you'll agree!
People who enjoyed this article also liked, The Resurgence of POWER PEARLS: A Lustrous New Symbol of Female Empowerment
Articles you may also enjoy
Join us for magnificent pearl trends and exclusive treasures. Discover a world that is truly ... beyond rare.
Consider this your invitation to the House of Assael. Find your closest luxury jeweler using our map search and start your journey to timeless elegance.