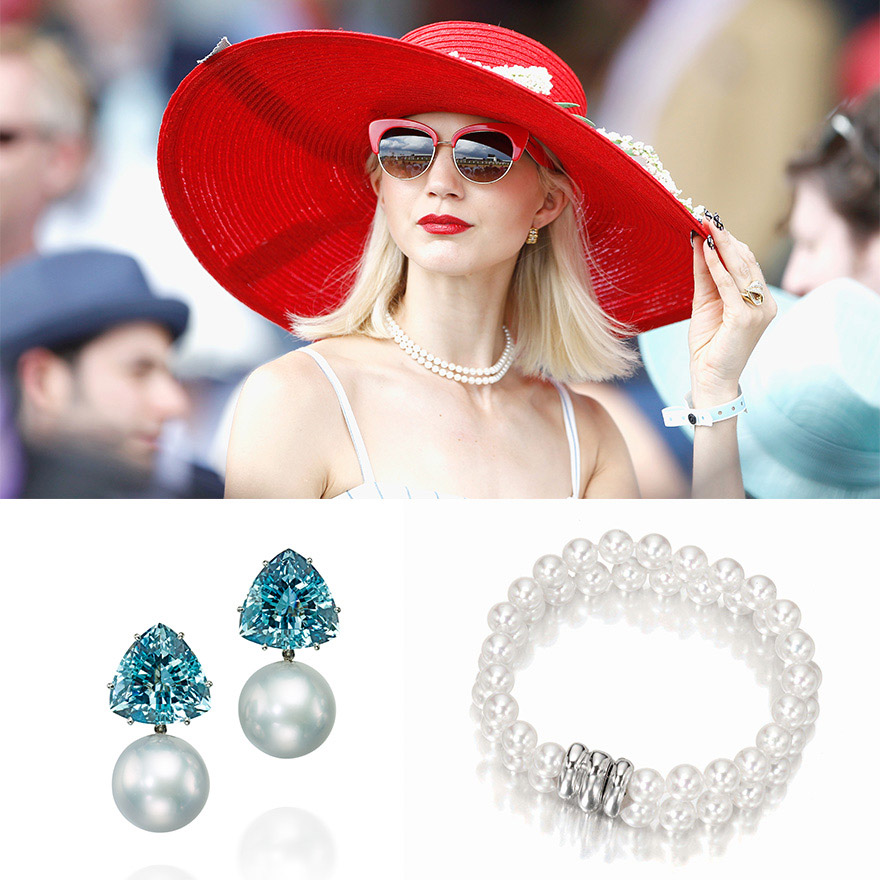 Tradition Make Over – Novel Style at the 144th Kentucky Derby
According to Town & Country magazine, "the Kentucky Derby is the preppy fashion event of the spring." And this year was no exception. Everyone turned up to cheer on the horses bedecked in their favorite fashion finery.  The crowd throbbed with excitement as Justify defied history, being the first horse to win the Derby who did not race by the age of two. So too, the fans elegantly broke with tradition this year, defying the norms in novel, inspirational ways. These captivating looks promise a chic, colorful and stylish spring season.
Updating Headwear
As usual, hats of all types walked the red carpet arrivals at the Derby this year, but just like in the world of fashion, exotic uses of color created loads of drama.  Similar to the bright dyed furs on recent runways, classic wide-brimmed hats at Churchill Downs were adorned with fanciful new colors – mixing yellows with bright greens/reds or black/white combos with lovely bright pink hues.  Some fashionistas opted instead to forego the classic hat in favor of a 'fascinator', an elaborate three dimensional adornment fastened onto a headband or pinned to the crown of the head.  These impressive novel bonnets pair well with the sophistication and solidity of pearl earrings or pearl strand necklaces.
Fashion Twists
Pantsuits have been all the rage since Hilary Clinton supporters created the "pantsuit nation", but actress Sammi Barber updated the sophisticated look with a charming  pair of shorts, in a soft feminine pale pink color that rivals the "blush" hue making headlines in the bridal world.  Another cue that the rules are changing?  White before Memorial Day is no longer a fashion faux pas. Actress Mira Sorvino and many other budding fashionistas cheered on their favorite horse in all white ensembles – sun dresses, lacy frocks and pantsuits alike.  The singular palette in these luxe looks call for the elegant pale pink beauty of rare Angel Skin coral, one of our most prized treasures from the sea.
Youthful Pearls
No longer are pearls for grandmas or weddings only.  A lustrous obsession with pearls is captivating the young.  Fashionistas like Michelle-Marie Heinemann and both Josh Byrom's and Deire Foxx's partners all wore strands of pearls, while Victoria Justice sported a pearl-studded clutch with her elegant white pantsuit.  The pearls themselves looked fresh and youthful, adorning solid hues or polka dots. Millennials are embracing the traditional look of pearls but giving them exciting makeovers in lots of novel, fun ways.  Coco Chanel would be proud, no doubt!
Articles you may also enjoy
Join us for magnificent pearl trends and exclusive treasures. Discover a world that is truly ... beyond rare.
Consider this your invitation to the House of Assael. Find your closest luxury jeweler using our map search and start your journey to timeless elegance.