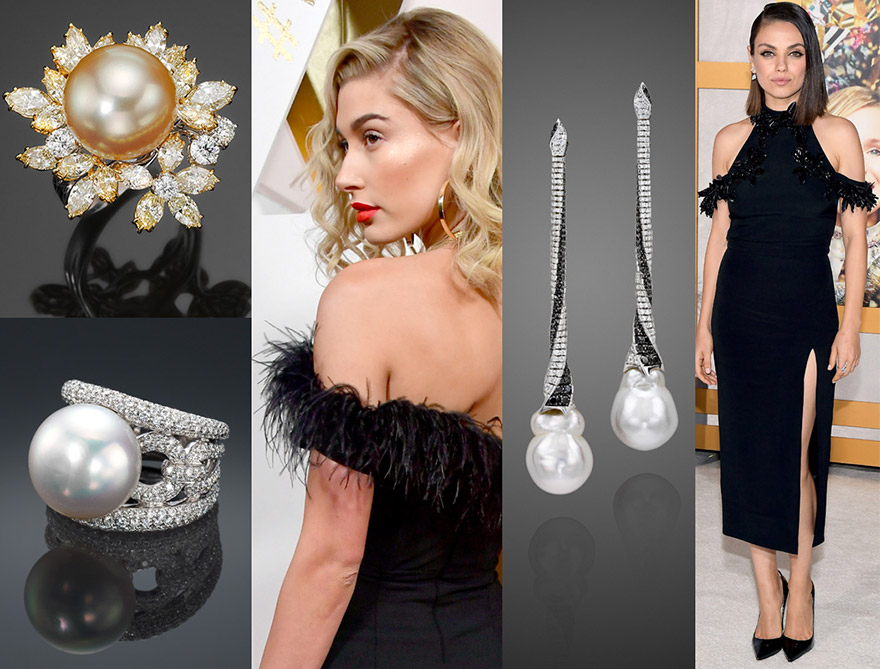 Holiday Styling: 4 Ways to Accessorize that Little Black Dress
As the bells start to jingle and the air lights up with sparkle, here comes the tide of events that will keep us smiling, laughing and clinking glasses throughout the holiday season. The ubiquitous little black dress, better known as the "LBD" is an easy, carefree way to shine. But how do you stand out amongst a sea of LBDs? With Accessories, of course!  Bring out the baubles and get ready for your close-up.
For the latest trends in holiday dresses, let's see what super models and celebrities have been wearing lately. Here's inspiration for how the pearl obsessed can accessorize the latest LBDs for unforgettable looks and highly "like"able selfies.
The Shimmering LBD – Sleeveless or Off Shoulder
As technology continues to enhance textiles, super fun, shimmery fabrics are all the rage.  Avoid the boring choice of bling-on-bling and opt for some lustrous pearl accessories instead. The smooth surface and radiant lustre of pearls enhances the shimmer  in the fabrics without mimicking it or competing with it.  For sleeveless, off shoulder and one shoulder LBDs, try a large beautiful cuff to make a bold and memorable statement.
The Sheer LBD
The most recent vogue in fashion design feels like a game of peek-a-boo as more and more designers are using swaths of sheer fabrics for sexy haute couture style in special occasion dresses.  Black sheer fabrics are intriguing with a hint of mystery and sensuality. Adorn these LBDs with the deep, dark hues of Tahitian pearls.  The exotic allure of Natural Color Black Pearls from Tahiti is the perfect partner for such bold and daring dresses – sure to invite attention and loads of compliments! I personally prefer the peacock and charcoal hues as they go well with black but do not feel overly matchy-matchy.
Feathered LBDs
Another fun and flirty trend in special occasion attire is feathers!  Strike a pose this year with one of these flights of fancy in various styles of LBDs – open shoulder, mini-dress, flapper style, etc.  The playful movement of the feathers calls for the solidity of pearls accented with diamonds. Offset the softness of the feathers with the hardness and weight of the gemstones and pearls. Long dangling earrings are best as they move with the body just like the feathers do.  Courageous cocktail rings also anchor the look and avoid getting lost in all the feathery puff.
The Non Black Dress!
For those choosing color in holiday attire, accessories can be even more challenging. To match or not to match? That is the question.  For sparkly fabrics, opt for Akoya pearls and golden pearls; they add a sprinkle of sophistication and elegance.  For jewel toned dresses, pearls offer a nice alternative to matching the dress to the gemstones.
Whatever you wear, may magnificence be your guide! Make the effort to create a sensational look that lets you truly enjoy the most magical time of the year.
Articles you may also enjoy
Join us for magnificent pearl trends and exclusive treasures. Discover a world that is truly ... beyond rare.
Consider this your invitation to the House of Assael. Find your closest luxury jeweler using our map search and start your journey to timeless elegance.