Arriving In Person In Style – Holiday Style Guide
"The pearl is the queen of gems and the gem of queens," gushed Grace Kelly, the late beloved Princess of Monaco. And as we return to celebrating our treasured holiday traditions in person again, pearls are topping the list as the most luxurious, feel good jewel of the season, no matter your age, gender, or location. Cosmopolitan listed baroque pearls as one of the top ten jewelry trends to shop before the end of the year. The Harper's Bazaar list of bold jewelry trends you are about to see everywhere quoted Meeka Hossain as saying, "One of the biggest jewelry trends I've seen and love is the resurgence of pearls in everyday wardrobes." Marie Claire recommended pearl jewelry to "complement winter party ensembles." Clearly, pearls are the perfect way to add some luster to your yuletide style.
Coral is also trending, with beaded coral strands seen on recent Paris and Milan runways at Dior and Valentino. So, suit up and go bold with sizable accessories for a holiday like no other. Follow these trends to be sure to arrive in person, in style!
SAY CHEERS – Cocktail Rings for the Champagne Toast
Time to raise a glass! As we doll up for the annual toasts and pose for that perfect champagne snapshot, we'll need a spectacular cocktail ring front and center on the flute-holding fingers. Look for a cocktail ring as unique as you are. Assael's fusion of the orb and rectangle creates dazzling sparkle in either white or warm sunny yellow. A perfectly round South Sea White Pearl snuggles up to an emerald-cut, 3.08 carat White Diamond or a Golden South Sea Pearl pairs with a 2.41 carat Fancy Yellow Diamond. Wear on the finger of your choice and see how your selfie smile brightens. Or pack a rainbow punch with the multi-color hues of baby Akoyas surrounding a large faceted Bi-Color Tourmaline. Any of these will add sparkle to the special occasion or to an everyday ensemble.
Smooth stones in bold colors create another great option for your party outfits. The vibrant red hues of our Italian Natural Sardinian Coral, cut and polished by our esteemed partner Liverino, SRL, or the refreshingly understated softness of Beyond Rare Angel Skin Coral add an unsurpassed level of sophistication. The Bubble Sardinian Coral Ring by Sean Gilson for Assael (see top image) features ethically sourced Gem Coral beads that float like bubbles in your champagne glass. The Oval Angel Skin Coral and Lavender Spinel Ring highlights the authentic pale hue of responsibly sourced Gem Angel Skin Coral and augments it with a surround of nearly 11 carats of multi-hued Lavender Spinel. With treasures like these, we can all say cheers with a little extra flair.
CELEBRATE BOLDLY – Hair Jewels, Bright Colors, Daring Juxtapositions
This year, more than ever before, we are ready to celebrate in a bigger way. Recent fashion runways were full of bold choices, hair jewels, and daring combinations of fabrics, cut-outs, and colors that suggest anything but the status quo. We are long overdue for leaping out of those lockdown sweatpants, and the holidays give us many reasons to celebrate boldly. Pearl hair jewelry creates a fun "halo effect" (Vogue) and was seen on the runways at Laura Biagiotti, Mashama, and Giambattista Valli. Try donning a spectacular pearl tiara to clear out the angst of the past year and a half. The Bubble South Sea Pearl and Diamond Tiara by Sean Gilson for Assael cleverly converts a choker length, modern pearl necklace. Other hair Jewels like pearl bobby pins or Bubble pearl pins add the perfect touch to your seasonal duds and can serve as a mood lift any time you need some luster in the future.
The Colors collection by Assael offers a wide array of remarkable color combos for renovated pearl and coral styling. The Sardinian Coral and Blue-Green Tourmaline Earrings are the perfect color for a Christmas party or to liven up basic neutrals like turtleneck sweaters, trench coats, and suit jackets. For anything but the ordinary, check out the beautiful and unusual colors of Fiji Pearls (supplied to Assael by J. Hunter Pearls). The Fiji Pearl and Watermelon Tourmaline earrings are set in Rose Gold with little pink diamond accents. A Boho Chic look that will definitely get some attention.
Coming out of quarantine, color blocking quickly became one of the leading fashion trends with Vogue reporting acid yellow, tangerine, tomato, cyan, and maroon, each color blocked, bringing back the popular trend from a decade ago. Designer jewelry can also play along. Assael paired bright blue Arizona Turquoise with deep woody veins and South Sea Golden South Sea pearls for a sensational style. In the two-row necklace, the turquoise creates a hidden clasp to be worn on the side. Similar designs in slightly mismatched drop earrings, a bracelet, and a sizable ring create volume at the lobe or wrist.
MAKE A STATEMENT – Fun to Fabulous Drop Earrings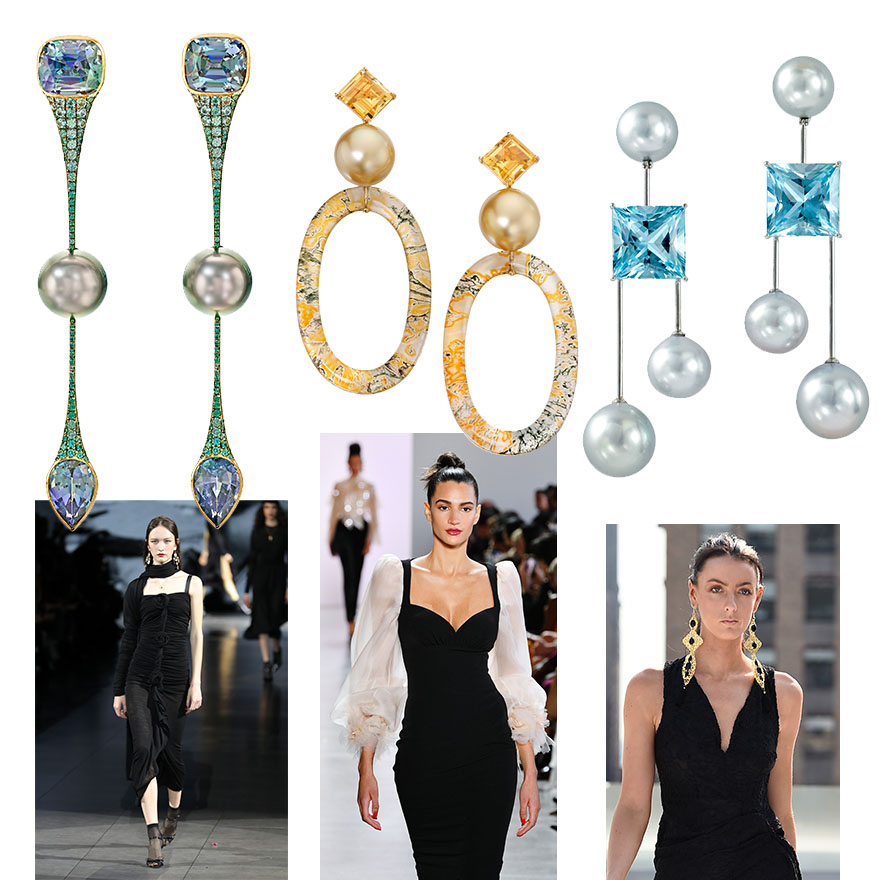 Now that we finally get to "make an appearance" in person, have fun dressing up again! Drop earrings make an unforgettable statement that is both fun and fabulous. They sway with every turn of the head and like the famous mirror ball that drops on NYE, they add a hint of excitement and energy to every cocktail dress. Color is a recurring theme, as fashionistas are pairing white pearls and colorful gemstones with LBDs to stunning effect. Assael's Stiletto drops feature Tahitian Pearls with sparkling faceted Tanzanite and the charm of Color-Change Garnet. For those wanting warmth this winter, Assael's Golden South Sea Pearls make a great choice. Imperial Topaz and Dendritic Agate pair perfectly with Goldens in the stunning "Duvall" earrings.
Mid-Century style is all the rage of late, as well, with Elle proclaiming, "MidCentury Mod is not just for furniture anymore." Assael has embraced the sleek, tailored look in an earring series of Modern Mobiles. The light, silvery Tahitian Pearls and square-cut Aquamarines from Mozambique balance the geometry in hanging platinum architecture, measuring 2.75" in length. These statement makers are sure to bring delight, as well as striking conversation, every time they are worn. Discover more Drop Earrings and options with detachable pearls for maximum versatility at Assael.com.
No matter where you go, or even if you decide to stay home, "arrive" with a buoyant lift in your spirits. Make a fun fabulous statement, celebrate boldly, and say cheers with a shining smile. We wish you safe and happy gatherings and a season of sparkle and delight!
Feature Image at Top, Clockwise from upper left – Zuhair Murad Paris F/W 2021, Assael Two Row Akoya Pearl Necklace with White Gold Clasp, Assael Natural Color Green Tahitian Cultured Pearl Necklace, Balenciaga S/S 2022, Model wearing Assael responsibly sourced Sardinian Coral, Bubble Sardinian Coral Ring by Sean Gilson for Assael
Articles you may also enjoy
Join us for magnificent pearl trends and exclusive treasures. Discover a world that is truly ... beyond rare.
Consider this your invitation to the House of Assael. Find your closest luxury jeweler using our map search and start your journey to timeless elegance.