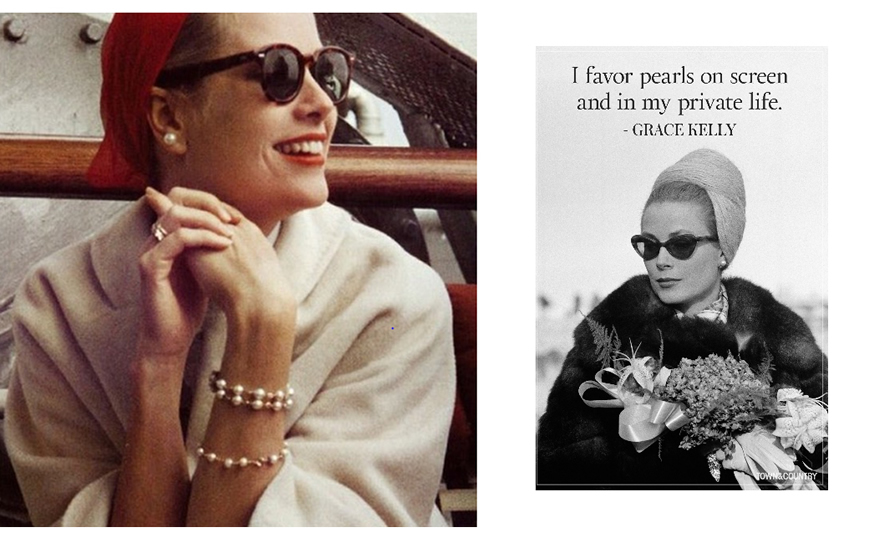 20th Century Style Icons | Grace Kelly, the American Princess, and Her Pearls
Throughout history, pearls have captivated mankind with their beauty, rarity and timeless appeal. Once limited to royalty, pearls have become universally revered as the ultimate symbols of refinement and taste. "Good" pearls were always the signature of 20th century style icon Grace Kelly, during her Hollywood days and long after she became Princess Grace of Monaco. She famously said, "I favor pearls on screen and in my private life." Let's take a look at a few magnificent pearl moments of the beloved American movie star-turned-princess.
Rear Window
One of Grace Kelly's most iconic film roles was that of Lisa Fremont in Alfred Hitchcock's 1954 classic, Rear Window. Lisa, the wealthy socialite girlfriend of L.B. Jefferies (played by James Stewart), is helping him convalesce from a broken leg. Each time she breathlessly arrives at Jeff's apartment, she is costumed in the height of elegance — wearing chic suits and New Look dresses accessorized with pearl chokers and a distinctive pearl bracelet with chunky gold charms. Over the decades, this multi-strand pearl piece has come to be known in jewelry circles as "The Rear Window Bracelet."
Prince Charming
Heritage Auctions of New York recently sold a trove of never-before-seen photos of Grace Kelly on board the SS Constitution, bound for her 1956 wedding to Prince Rainier III in Monaco. Her entourage included 66 guests, her two dogs, and no less than 80 pieces of her personal luggage! Even when clad in a casual red headscarf, Grace adorned herself with cultured pearl earrings and multiple pearl bracelets.
Pearls and the Palace
Prince Rainier III presented his American princess bride with spectacular jewelry gifts to celebrate their wedding. These included a 10-carat emerald-cut diamond engagement ring from Cartier, and a group of pearl and diamond pieces from Van Cleef & Arpels, which Kelly selected herself: a triple-strand necklace and bracelet, a ring, and a pair of earrings.
From her 1950s movies until her tragic death in 1982, and indeed to this very day, Grace Kelly has been admired by millions of women around the world for her classic and glamorous style, including her pearl-centric jewelry wardrobe.
This is the second post in our 20th Century Icons Series. See also Diana: The People's Princess and Her Passion for Pearls.
Articles you may also enjoy
Join us for magnificent pearl trends and exclusive treasures. Discover a world that is truly ... beyond rare.
Consider this your invitation to the House of Assael. Find your closest luxury jeweler using our map search and start your journey to timeless elegance.